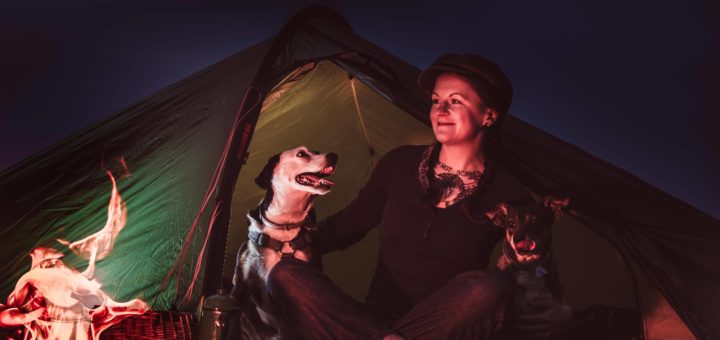 Foto: Mike Sonntag Fotografie
Kristin
Ich bin Kristin, ein ´84er Jahrgang und gebürtig aus Sachsen, in Deutschland.
Von Beruf bin ich Apothekerin, doch meine größere Leidenschaft ist es durch die Natur zu streifen: so kam 2018 eine Ausbildung zur Wanderführerein hinzu.
Kalt, karg und scheinbar endlose Weite: faszinierender kann Natur für mich nicht sein! Dazu gesellt sich das große Bedürfnis zu laufen, am Besten immer weiter und weiter über lange Distanzen und mehrere Tage oder Wochen.
Aufgewachsen und Zuhause bin ich im Vorerzgebirge, und auch wenn es hier schöne Ecken gibt, endlose Weite findet sich kaum. Aber für dieses Problem sollte eine Lösung kommen: Auf einer recht spontan organisierten Wandertour mit Freunden, hatte ich 2003 meinen ersten "Schwedenkontakt", im Süden des Landes. Wir sind nach Malmö geflogen und vom Flughafen aus direkt los gelaufen, durch Wälder und Kulturlandschaft, geschlafen wurde im Zelt oder der typischen Vindskyd (eine einfache Schutzhütte aus Holz).
Danach ließ mich dieses Land nicht mehr los, denn das für Skandinavien so typische "Friluftsliv" gefiel mir sehr. Im Jahr 2006 war es endlich so weit, ich reiste endlich in den Norden: eine Tour im Padjelanta Nationalpark. Seit dem habe ich mehrere Treckingtouren zu Fuß in Schweden und Norwegen unternommen, sowie Wintertouren auf Schneeschuh oder Ski, fast allesamt weit über dem Polarkreis. Ich laufe solo, mit meinen zwei Hunden Lia & Dori, oder wenn es sich ergibt auch gern mit Freunden.
Doch ich bin nicht nur in Skandinavien unterwegs, auch das Elbsandsteingebirge, der Harz oder die Alpen gehören zu meinen liebsten Wandergebieten. Und die Welt ist ja bekanntlich groß, mal sehen was da noch auf mich wartet…
Dori
"Dori Großauge" lebt seit Juli 2014 bei mir. Ich habe sie über die Vereine Born to live e.V. und PCAS Állatmentés aus Ungarn adoptiert. Sie war von Beginn an ein Sonnenschein, immer freundlich am wedeln und neugierig überall dabei. Vor allem war sie eine wunderbare Gefährtin für meinen alten Hund Benny, als sein Bruder starb.
Von der Statur her ist sie zwar eher ein Zwerg, aber mutig und selbstbewusst wie eine ganz Große! Für sie spielt es keine Rolle welches Wetter draußen ist, Dori ist immer gern unterwegs. Dort geht sie ihren Leidenschaften nach: Fährten suchen und nach Mäusen buddeln. Aber auch die größte Abendteurerin muss sich einmal erholen, und das tut sie am liebsten dicht angekuschelt auf dem Sofa oder im Schlafsack.
Lia ~ gestorben am 29.08.2019
Im Mai 2016 mussten wir uns leider von Benny verabschieden, als er mit stolzen 17 Jahren starb. Dori sollte nicht allein bleiben und so wurde Lia zum neuen Familienmitglied. Sie kam ebenfalls aus Ungarn, gefunden wurde sie dort mit ihren 5 Welpen und war schrecklich dünn. Über Born to live e.V. kam sie in zu einer Pflegestelle und wurde wieder gepäppelt, bis sie in ihr neues Zuhause reisen durfte.
Lia war zwar sehr neugierig und freundlich, aber auch schnell unsicher und hat teilweise panischer Angst vor größeren Hunden. Ab und an setzt sie auch heute noch ihren besorgten Blick auf, aber "Lierchen" ist schon viel unbeschwerter geworden. Am liebsten hat sie es zwar kuschelig und möchte permanent eine Hand die sie streichelt, aber Lia ist auch gern draußen – zumindest bei schönem Wetter.Sie ist unsere kleine Outdoor-Dramaqueen. Nass und schmuddelig muss ihrer Meinung nach nicht sein!
Auslandstierschutz – Denn Hilfe für Tiere und Menschen in Not sollte keine Ländergrenzen kennen!
In diesem Zuge möchte ich gern auf zwei Vereine hinweisen, mit denen ich persönlich sehr gute Erfahrungen gemacht habe und die mir sehr am Herzen liegen.
Zum Einen den deutschen Tierschutzverein Born to live e.V. und seine ungarische Partnerorganisation PCAS Állatmentés. Sie leisten in Ungarn unglaubliche Arbeit. Mit Aufklärungskampagnen, Kastrationsprogrammen, Auffangstationen, Vermittlungen von Tieren und einem langfristigen Ziel: Tötungsstationen schließen!
Meine Lia und Dori haben Fürsorge und ihr neues Zuhause über diese Organisation erhalten.
Vielen Dank dafür!
http://www.born-to-live-tierhilfe.com
Zum Anderen den auf Malta tätigen Verein AAA – Association for Abandoned Animals. Ihr Aufgabenfeld besteht vor allem aus der Pflege und Vermittlung von Straßenhunden, ausgesetzt oder dort geboren. Mit einer eigenen Auffangstation, einem Kastrationsprogramm und kontinuierlichem Arbeiten mit der Bevölkerung, um die Situation der Tiere vor Ort zu verbessern wird hier großartiges vollbracht.
Über diesen Verein bekam ich meine vorherigen Hunde, Benny & Kjeld, vermittelt.